How did you get involved with Laguna Fin Co?
A friend connected us for a photo shoot and when I first saw a pair of Laguna Fins I was instantly intrigued. They looked like no other fin and I was actually excited to get in the pool and try them out. As soon as I put them on my feet I knew this was something special. They were super easy to put on and my foot felt like it was in heaven compared to every other fin I had ever put on. Almost immediately I had a natural urge to try breaststroke in them. Not only could I properly kick with the fins on, but it felt powerful! I thought, "this is a game changer!" That's when I sat down with the Laguna Fin Team and said, "let's go!" We have been hustling ever since.
How does Laguna Fin differ from other fins?
First off, they're incredibly comfortable. I used to dread putting on fins because they cut up my feet. I would even put on socks to prevent it. Because of our unique neoprene foot pocket, your feet are in a world of comfort. The biggest difference I see is how they work for breaststroke. The surge of power you get while kicking breaststroke is awesome. It really forces you to turn your ankles out for a dynamic kick. I don't love breaststroke, but I do in Laguna Fin.
As a coach, I appreciate the adjustable strap. Parents don't have to buy new fins for every growth spurt their child experiences. For that reason, our fin will last much longer. They also make you work. Most swimmers like fins because you get a "free ride". Laguna Fin really gives you a challenging workout. They're a great tool to help you get to the next level, rather than an easy way to get more yardage.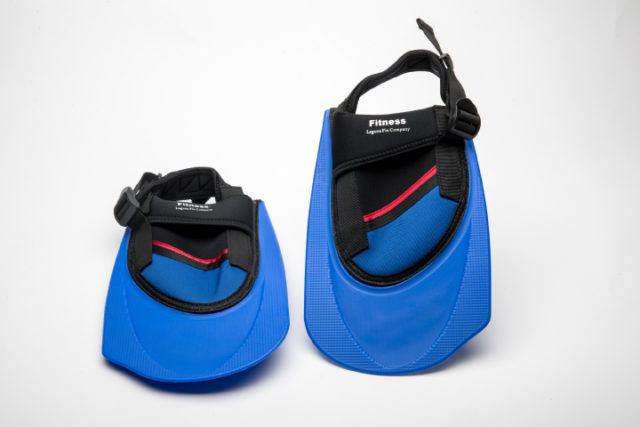 What excites you about this new venture?
The feedback we've received is incredible. The excited emails and phone calls from parents, swimmers, and coaches acknowledging what a difference Laguna Fin has made is really gratifying. The thought that we helped someone get a best time is so rewarding. I truly think our fin is a game changer. It's a fin that must be in every mesh bag. The thought that we have a piece of equipment that can seriously take athletes to their next level is what excites me.
Who else is using these fins?
It's a wide range, from summer league swim teams to club teams, masters swimmers, water polo teams and now universities. Our fins are not just for the pool. Laguna Fin is also for the ocean. A lot of bodysurfers are really stoked on them. These fins float too, which is huge for bodysurfing therefore no more missing fins. In addition, because of their size and weight, they are easy to throw in your bag for travel.
What's your favorite thing about getting in the water?
These days, I love how the water clears my mind. I love getting in and doing whatever my body feels like and letting my mind wander. I also enjoy getting in the water for Laguna Fin research and development. I believe in our product so much that while I swim in them I try to form the best words and descriptions so I can correctly express how awesome they are to others.
What do you love about being on the pool deck coaching?
I love coaching because I feel like it's my way to give back to the next generation. This sport was so good to me that I want to share and pass it on. It's so rewarding to see a swimmer proud of themselves after you put in the time and effort to help them get there. Obviously, the goal is to improve their swimming, but more importantly I try to build up their confidence and self-esteem to promote great attitudes and great efforts.
What does the Laguna Fin #swimminthedream mean to you?
On a personal level, that was my life for 20 years: swimming the dream. It meant showing up every day, pushing my limits, and living out the rewards of that hard work. It also meant traveling the world, representing TEAM USA, and having endorsement contracts. I think "#swimminthedream" really encompasses the idea of how hard work, never quitting, sacrifice and determination pays off, while being able to recognize your accomplishments and really living in that moment to enjoy them. It's about acknowledging what it took to get there and loving every minute of it (the good, the bad, the ugly, the mind-blowing). "The juice is worth the squeeze."
Where can you purchase Laguna Fin Co?
You can grab a new pair of Laguna Fins from our website www.lagunafin.com, where you can also check out new stories, videos, and interviews on our blog. You can also buy them straight through our Instagram and Facebook.
Kaitlin's Accomplishments
2000 and 2004 Olympian
Gold, Silver and 2x Bronze medalist
Former World and American Record Holder
5X Gold, Silver and 4x Bronze medalist at World Championships
2X Gold medalist at World University Games and Pan American Games